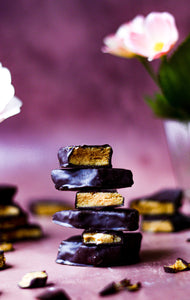 liveonchocolate
Wholesale: Maple Birch Sponge Toffee. Case of 12
Regular price
$68.00
$0.00
Unit price
per
Get ready to rave! Our sponge toffee is handmade from organic and fair trade ingredients, featuring Quebec maple & birch syrups that give depth like no other toffee experience!
Ingredients:
Cacao*+, cane sugar*+, maple syrup*, baking soda, birch syrup*. *Organic +Fair trade. 
Made in a facility that processes NUTS - cashews, almonds and hazelnuts.